---
The Concept

As a result of extensive research and development initiated in 1968, Winslow Research Institute created unique behavior assessment and development systems for organizations and individuals. The programs measure the behavioral characteristics related to successful performance in all positions and to contentment in all lifestyles. The Applicant Selection Programs assist organizations in selecting the best available applicants for any position from entry-level clerk to chief executive officer. The Employee Development Programs enhance the performance of current employees, by focusing on their behavior and performance in their current position with the organization. The Individual Development Programs enable individuals to achieve career success and attain personal contentment.
---
The Market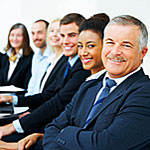 The Winslow Assessment Systems have been extensively test marketed since 1968. Organizations of all sizes, from partnerships to Fortune 500 companies, purchased the Winslow Reports. The programs are suitable for every non-profit organization and business classification. Consequently, the market potential is exceptional; virtually every organization that has employees, regardless of their size or activity, is a qualified prospect for the programs. The institute is now utilizing a Network of Certified Consultants to distribute the Winslow Behavior Assessment Systems to organizations and individuals throughout the world.
---
The Opportunity

If you are an organization or a consultant with an established business, you can add The Winslow Reports to your products or intangible services. The Winslow Reports will increase income from your current clients and will encourage prospects to utilize your other services. Since clients usually assess all their applicants and re-assess their employees to measure progress, there is a residual effect. The Winslow Reports will also improve your cash flow, since clients purchase in quantity and prepay for reports. If you are a management consultant, executive, manager, retired military, sales representative or entrepreneur who desires to start your own business; you can become a Winslow Certified Consultant for a reasonable investment.
---
The Operation
As a Winslow Certified Consultant, you will be trained and certified to market and support the Winslow Reports to organizations for Employee Development and Applicant Selection and to individuals for self-improvement, with no geographic limitations. From your home office, you would give interesting demonstrations of the Winslow Assessment System to prospects utilizing the GoToMeeting Internet Conferencing System. At the conclusion of the demos, you offer the prospects two Winslow Reports to enable them to confirm their accuracy and value. A week later, you review the two Reports with the prospect and close the sale. No selling experience is required, just good communication skills, since the Reports virtually sell themselves. You can recruit Authorized Sales Representatives to assist you in giving demonstrations and Certified Business Consultants to assist you in administering the Winslow Reports with clients.
---
Free Winslow Websites for Your Clients
In addition to the Winslow Reports, your clients are given a free Winslow Website. This Website enables your clients to administer their assessment activity on their computers and convenience. Our Internet Assessment System is the result of state of the art technology; however, it is user-friendly and does not require a skilled computer operator. Individuals with no computer experience can efficiently manage the System by following the step-by-step instructions provided. The software is "menu driven," which means that typing skills or keyboard experience is not required. One simply directs the computer operation with one finger selection of keys on the keyboard. It is truly "user-friendly", with Help Screens throughout, to guide and direct the operator at every phase.
---
The Reseller Consultant Licenses
Two non-exclusive Winslow Certified Consultant Licenses are available depending upon the qualifications and preferred methods of operation of each applicant. Agreements are available upon request that indicate the benefits and responsibilities of each Consultant. Licenses require an Initial License fee, and a continuing royalty fee for each assessment processed. The initial fee includes a Master Winslow Website, technical, Internet, and marketing training, and the support required to launch and assure the success of your Winslow Reports business.
Director Consultant Distribution License:
Director Level Consultants are trained and certified to distribute all the Winslow Profiles, Programs and Systems to organizations and individuals. They are authorized to market and implement the Employee Development and Applicant Selection Programs to end-user organizations. Directors can recruit Authorized Sales Representatives to assist them in marketing the Winslow Products and Certified Business Consultants to assist them in implementing the programs and supporting Clients. They may also recruit Coaches into their Network of Associates to work with individual end-user clients. A Designated Elite Consultant will conduct the initial training program and be responsible for continuing marketing and technical support.
Executive Consultant Distribution License:
Executive Level Consultants receive all the benefits of a Director as described above. This License fee is higher than the Director License; however, the Report royalties are lower. In addition, they are authorized to build a network of Director Consultants to market the Winslow Products and will receive a share of the income from their sales. They are also trained and certified to conduct the Position Analyses required to create Custom and Elite Profiles & Reports for their end-user clients and the Directors in their Network. A Designated Elite Consultant will provide initial training and continuing support to all Consultants recruited into the Executive's Network.
Executive & Director License Features & Benefits:
A complete "turn-key" home business for a nominal investment.
Authorized to market all of the Winslow Programs and Products.
Authorized to build a network of relationships to market products.
Attendance at an Initial Consultant Live Training Event.
Pre-live Training Event web conference training seminars.
Training & Reference DVD Video Library (20 hours).
Printed Training Manual of 300 plus pages with ongoing updates.
Winslow Profiles Technical Manual created by psychometricians.
Customized Winslow Marketing & Webmaster Internet Website.
Access to the Winslow Internet Assessment Processing System.
Access to the Winslow Internet Purchasing & Accounting System.
Numerous features and functions on the Webmaster Websites.
Option to Hyperlink to the Winslow System from your Website.
Ability to select products to market and establish your own fees.
Free Complimentary Reports for Consultant's prospects.
Consultant's clients receive a private Winslow Website.
Demonstration Website for end-user prospects.
Option to participate in joint marketing opportunities.
Option to participate in free monthly training Webinars.
Access to the Winslow Custom and Elite Custom Programs.
Designated Elite Consultant will train Consultants in your Network.
Option to purchase Manuals, Brochures and other materials at cost.
No license renewal fees or annual assessments.

. . . And many additional features and benefits.

---
The Application Process
To schedule a demonstration of the Winslow Internet Assessment System, please click on the "Contact Us' button below. During this conference you will receive more detailed information on becoming a Winslow Certified Consultant and be given the opportunity to ask questions.
To Schedule a Web-demo Contact Us